In this weekly series we have been discussing the benefits of a vegetarian diet including: better health, animal rights, frugal living, food safety, public health, global food crisis and the staggeringly huge impact of meat/livestock production on climate change/resource depletion
The United Nations has spoken:

Animal products, both meat and dairy, in general require more resources and cause higher emissions than plant-based alternatives
More than fossil fuels, agriculturural activities directly influence ecosystems by occupying large land areas and using huge quantities of water
Animal products are important because more than half of the world's corps are used to feed animals, not people
A substantial reduction of impacts would only be possible with a substantial worldwide diet change away from animal products
Macca's Meatless Monday/Meatless Advocates is a solution oriented activist group, with solutions for some of the most pressing issues of our time including: climate change, global food/water insecurity and public health. Here we don't just talk about the severity of the crisis. Armed with knowledge about how our actions can contribute we become part of the solution.
I was inspired to create this series by former Beatle and vegetarian advocate Paul McCartney(Macca) who partnered with the Meatless Monday campaign to promote less consumption of meat. We not only discuss the advantages of a less meat diet we also do some cooking, share recipes and listen to great Beatle music!
I'm always on the look out for some new and different taste experiences. Yet, I seem to usually forget about gnocchi. I don't know why that is because gnocchi can be as easy, fast or elaborate as you like. You will find them of good quality in your super either frozen, dried or vacuum packed. You can also find them freshly made in many farmers markets or specialty stores. Making them from scratch is satisfying and not at all time intensive or difficult.
Gnocchi are Italian rustic potato dumplings which can be served with a variety of sauces. They make a hearty addition to your veggie cooking menu. Today I'll share some of my fave gnocchi recipes.


GNOCCHI SOUP
This is so easy it's not a real recipe just some steps and you end up with a comforting bowl of yum. Serves 3-4
Put about 6-8 cups vegetable broth and several cloves of minced garlic in a large soup pot over medium-low heat. Simmer uncovered until the garlic is tender. Add a couple stalks of diced celery and continue to simmer until almost tender. Bring broth to a full boil and stir in a 12-ounce bag of frozen gnocchi(or dried or vacuum packed) and cook until the gnocchi float. Stir in 10 ounces frozen peas, cover, and turn off the heat. Add plenty of pepper and Parmesan cheese (optional) .


GNOCCHI with BROCCOLI and CHICKPEAS
This is an easy, fast and healthy one dish meal..serves 2
8 oz. (1/2 pkg.) gnocchi, such as Gia Russa or use fresh
8 oil-packed sun-dried tomatoes, drained and quartered, 2 Tbs. oil reserved
1/2 onion, thinly sliced
1 small bunch broccoli raab, stems trimmed, cut into 2-inch pieces (4 cups)
1 15-oz. can chickpeas, rinsed and drained
Cook gnocchi in large pot of boiling salted water according to package directions. Drain, reserving 1/2 cup cooking water, and set aside.
Heat reserved sun-dried tomato oil in large pot over medium-high heat. Add onion, and cook 5 to 7 minutes, or until beginning to brown. Increase heat to high, and stir in broccoli raab. Cook 2 to 3 minutes, or until broccoli raab begins to wilt. Add sun-dried tomatoes, cooked gnocchi, and chickpeas, and cook 2 to 3 minutes more, or until some gnocchi begin to brown. Stir in reserved cooking water, and season with salt and pepper, if desired. How easy was that?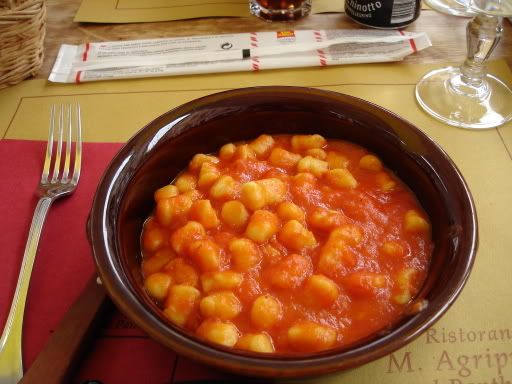 GNOCCHI with SPICY VODKA TOMATO CREAM SAUCE
So elegant with a salad and breadsticks. serves 4
1 pound of gnocchi

1 tablespoon olive oil
2 teaspoons chopped fresh parsley

1/2 teaspoon hot red pepper flakes

4 minced garlic cloves

A 28 ounce can of whole tomatoes

1/2 cup silken tofu

2 tablespoons of vodka


Put the gnocchi in a pot of water, and bring to a boil.
Boil for 3 minutes, and then drain and set aside.

Sauté the olive oil, parsley, red pepper flakes, and garlic cloves in a medium saucepan.
Add the can of whole tomatoes, and bring to a boil.
Puree this in a blender along with the silken tofu or use an immersion blender.
Transfer back to the saucepan after blended.
Heat gently, and add the vodka.

Heat for one minute, and then toss with the gnocchi.


LENTIL BALLS
This is an awesome 'meat' ball recipe that would be perfect with the tomato sauce above minus the tofu and over some homemade gnocchi or pasta.
2-1/2 cups vegetable stock
1 cup dry red lentils
2 tablespoons canola oil
1 small yellow onion, minced
2 cloves of garlic, minced
1 flax egg (2 tablespoons ground flax + 3 tablespoons warm water)
1- 1/2 cups whole wheat bread crumbs
1/2 cup nutritional yeast
1-1/2 teaspoons parsley
1-1/2 teaspoons oregano
1/2 teaspoon salt
1/2 teaspoon pepper
Place the vegetable stock in a medium saucepan and bring to a boil. Add the red lentils, stir, reduce heat to low, cover and simmer for 25-30 minutes until the vegetable stock is absorbed. Uncover and stir the lentils frequently throughout cooking time so that they do not stick to the pot and so that they cook evenly.
Meanwhile, heat a skillet on medium heat and add the canola oil. Add the minced onion when the oil is hot and saute the onion 5-10 minutes, until translucent and soft. Add the minced garlic to the onions and cook until fragrant. Remove from heat and set aside.
Once the lentils are cooked and soft, place them in a large mixing bowl along with the sauteed onion and garlic. Allow to cool, 5 -10 minutes and then stir in the flax egg. Next stir in the breadcrumbs, nutritional yeast, parsley, oregano, salt and pepper. Stir until everything is well combined. Place in the fridge to set for 15-20 minutes.
Preheat the oven to 350ºF and line two baking sheets with parchment paper. Roll the lentil mixture into golf ball-sized balls and place on the baking sheet.
Before baking the lentil balls, bring a large pot of water to boil and cook the gnocchi as directed on the package to desired tenderness.
Bake the lentil balls while the gnocchi is cooking, for 15–20 minutes, turning the balls once throughout the cooking time. Remove from the oven and serve with Homemade Tomato Sauce

HOMEMADE ITALIAN GNOCCHI
This vid demonstrates the technique for making traditional gnocchi.
Ingredients:
2 lbs russet potatoes
3 cups flour
1 egg
salt to taste
VEGAN GNOCCHI
Ingredients:
2 lbs russet potatoes, washed and scrubbed
1/2 tsp salt
2 T olive oil
1.5 to 1.75 cups all-purpose flour
Use same method as above.


GREEN OLIVE GNOCCHI
This is knock-out flavorful and makes a great company entree with the addition of a salad. Serves 4-6
3 cloves garlic, finely chopped
1 large yellow onion, finely chopped
3 tablespoons extra-virgin olive oil
scant 3/4 cup vegetable broth
1/3 cup heavy cream or vegan cream
1 2/3 cup green olives, pitted and chopped (use the bulk olives if possible best quality)
fresh lemon juice
1 pound store-bought gnocchi, either fresh or packaged
top with: fried capers, bread crumbs, toasted almonds, and/or chives
In a large skillet over medium high heat, saute the garlic and onion in the 1 tablespoon of the olive oil, until softened, a few minutes. Add the broth and cream and bring to a simmer. Remove from heat, add the olives and let cool for a couple minutes. Transfer to a bowl and puree with a hand blender or keep as is. Thin with a bit more warm cream or water if needed. Taste and add a bit of fresh lemon juice if you like. Set aside and keep warm.
Heat the remaining 2 tablespoons of olive oil In a large skillet over medium high heat. Pan-fry the gnocchi in a single layer until golden on both sides. Working in two batches if needed. You do not need to boil gnocchi first, just fry.
Toss the gnocchi with half of the sauce, taste, and add more sauce if you like. Salt and pepper to taste, then serve topped with fried capers, toasted bread crumbs, toasted almonds, and/or chives.
Any leftover sauce can be refrigerated for a few days.


SWEET POTATO GNOCCHI with MAPLE SAGE BROWN BUTTER
Almost a dessert it's so yummy but you can serve it as an entree...serves 4
1 lb. sweet potatoes (about 2)
Salt and pepper
1 cup all-purpose flour
1/4 cup butter or use vegan butter
15 fresh sage leaves
2 teaspoons maple syrup
1/2 teaspoon cinnamon
1 dash nutmeg
Start boiling a pot of water.
Peel the sweet potatoes and cut into small 1" chunks. Place in a microwaveable bowl with a little water and cover. Microwave for five minutes or until the sweet potatoes are done. Drain, season with salt and pepper, and mash with a fork.
Add about a half cup of the flour and stir. Continue adding the flour in small increments until you get a dough that you can handle. You want to add as little flour as possible to keep the gnocchi from being too dense. Pinch off a small piece and drop into boiling water to make sure it will keep its shape.
Place the dough onto a floured counter top (or cutting board). Divide in half and roll each piece into a 1/2 inch wide snake. Cut the dough into 1 inch long pieces and roll over the tines of a fork. Place shaped pieces onto a floured plate without them touching one another.
Cook the gnocchi in the boiling water in batches. You don't want there to be more gnocchi in the pot than can cover the surface of the water. The gnocchi is done about a minute after it starts floating.
While the gnocchi is cooking, melt the butter in a separate small saucepan. Once it is melted, add the sage leaves and continue to cook until the milk solids in the butter have browned. Remove from heat and add the maple syrup, cinnamon, nutmeg, and salt to taste.
Toss the cooked gnocchi with the browned butter sauce and serve hot.
Leftovers can be refrigerated and pan-fried the next day for a slightly different texture.
"I Am The Walrus" The Beatles "Man, you've been a naughty boy"
"I Wanna Be Your Man" The Beatles

What have you all been cooking? Please share your recipes and fave Beatle music here!